American Shaman CBD Review

The company specializes in the hemp oil production which assists in relieving stress without any mind-altering effects of THC. CBD American Shaman produces oil which is rich with cannabidiol natural carbon dioxide extract. American Shaman takes it's name and mission from the ancient traditions of Native American healers.
The company claims its CBD oil to be of the highest quality since the production follows all the industry standards. According to the company, the process of CBD extraction begins only after governmental agencies approve it. However they are not as transparent as other companies when it comes to thier lab reports,so that is something to keep in mind.
One of the things that I do like about the company besides their prices is there Compassionate Care program. They are committed to helping people with chronic illnesses and disabilities. They firmly believe that everyone should be able to use CBD without having to worry about price.
The program itself requires you to fill out an application and you do have to upload proof of illness or disability. This is only so people do not take advantage of the program. The process is easy and fast to get approved and well worth it for those suffering chronic illnesses.
What Are The Pros To CBD American Shaman
The technology
The company uses what is called nanotechnology that breaks CBD down into tiny nanoparticles.  The company, states that this approach allows them to make their products more effective and rapidly absorbable. It is 9 times more bioavailable than any thing on the market today. This technology allows it to be absorbed into the body faster.
Refund Guarantee – If not satisfied refund is available for a full 45 dys after purchase.
100% Organic, Gluten Free, Non GMO Hemp
Company also states that they don't use any heavy metals or pesticides,if true this is a big pro.
Based out of Kansas City Missouri so United States based
American Shaman Products
They boost a large selection of products and pricing is affordable from $10 to $110 depending on the product. Most oils are around the $50 to $60 dollar range which seems to be pretty common. Edibles can be bought from $10 to $30.
CBD oil tinctures-These come in four varieties with both full spectrum and isolate options. Unfortunately, artificial flavors abound in the flavored oils, but there's some good stuff in here too. The full spectrum tinctures contain saponin, which has immune boosting properties.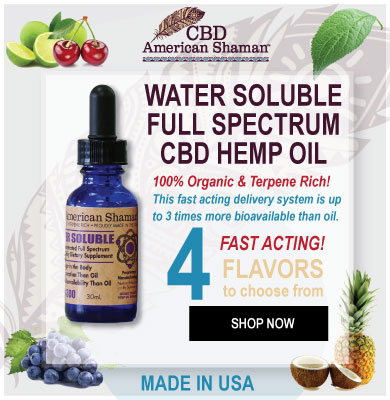 CBD oil for dogs, cats, and even horses.
CBD edibles- CBD candy, CBD popcorn, and a fan favorite, the Hermit Cookies.
CBD topicals- uses only all-natural ingredients and includes CBD salve, serums, lip balm, and face cream.
The topicals are a favorite of ours,we love trying different CBD topicals and their pain cream fits the bill. I am always looking for relief for my back and hip arthritis. American Shaman topicals use ultra concentrated CBD Hemp Oil plus a blend of Aloe Vera ,Vitamin A, D, & E Oil. Both the CBD Hemp oil and the Aloe Vera are anti inflammatory properties. When blended and used together American Shaman topicals are a winner.
Final Thoughts On American Shaman
Overall I would give this company a 4 star rating.
They have a large selection of product.
The Compassionate Care Program is second to none. As a company they are looking at the bigger picture and that is to be sustainable and to give back. They are 100% organic which fits into the green movement well.
I do believe they need to be more transparent when it comes to lab reports though. None the less they have a strong following and great reputation in the CBD and Hemp industry.